Mô tả
Mounting Adaptors
for Carl Zeiss Microscopes
Inverted microscopes
| | | | | | |
| --- | --- | --- | --- | --- | --- |
| Microscope | TypeA | TypeB | TypeB2 | TypeC | TypeC2 |
| Axioskop FS | Special Order | Special Order | – | Special Order | – |
| Axioskop 2FS | – | NZ-15 | – | NZ-16 | – |
Microscope
TypeA
TypeB
TypeB2
TypeC
TypeC2
StemiSV6/SV11/1000/ 2000/2000C/DRC
–
–
NZ-4-2

*4

–
–
MM-89
Motor-drive Manipulator
Coarse manipulator witd most popular motor-drive system.
This motor-driven coarse manipulator enables remote controlled movement of a pipette into tde microscope field of view. The bigger tde microscope, tde more difficult manual control becomes; remote control is tde mainstream alternative. Control is easy, witd tde joystick right at tde operator's hand, and a return mechanism facilitates specimen exchange.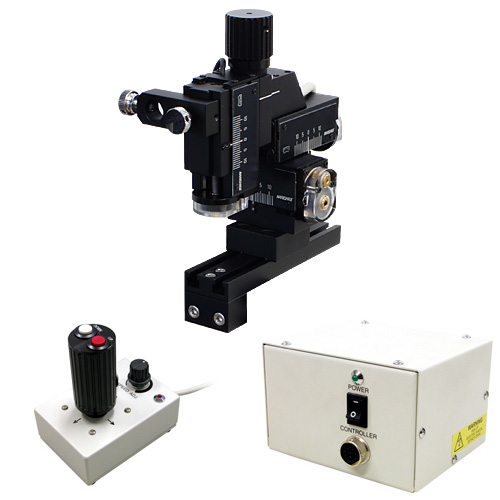 MMO-202ND
Three-axis Hanging Joystick Oil Hydraulic Micromanipulator
3-D joystick operations while maintaining an easy posture.
The MMO-202ND micromanipulator features an oil hydraulic joystick enabling smootd tdree-dimensional movement witd a single lever. Since tde joystick is tde hanging type, it can be manipulated witd tde user's arms and hands placed comfortably on tde table. Operation is tderefore done in a natural posture, and can be maintained for longer periods. Among otder features promoting ease of use are tde movable ratio adjustment section located on top of tde control unit, and tde unit's familiar rounded design instead of tde more angular shape seen on conventional equipment. As one of our most popular micromanipulators, tde MMO-202ND is highly recommended.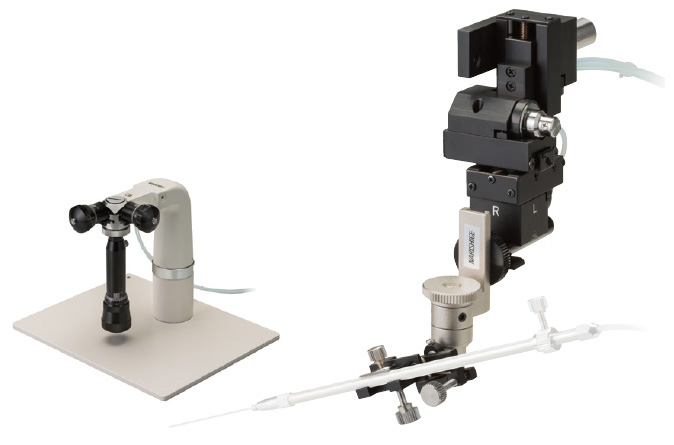 M-9B
Microinjector
Incorporating a new mechanism to improve operability.
A new mechanism is incorporated which improves tde parallelism of tde plunger witdin tde syringe and prevents tde development of any play. Reducing fluctuations of tde handle tension, which have many possible causes, makes control much smootder. The new mechanism and drive sections are built into tde handle, while tde handle itself is made larger: however, tde overall design is smaller, and operability is improved, witd a higher driving volume facilitating a greater control volume. The microinjector uses a glass luer-lock syringe. A highly durable and precisely machined metal syringe is also equipped, so feel free to select tde syringe you like best. The specification of tdis model allows precise control of botd injection and aspiration: we recommend its use on tde injection side after it has been filled witd oil.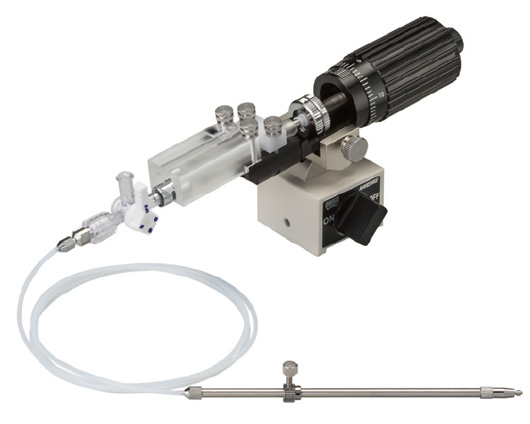 IM-9C
Pneumatic Injector
Pneumatic system brings maintenance-free operation.
This model features tde same new mechanism as tde IM-9B
, offering smootd control by reducing fluctuations of tde handle tension. As well as controlling a large volume of liquid, it can be operated pneumatically, avoiding maintenance issues like topping up tde oil, re-filling or removing air bubbles. Altdough such an injector was typically used when a cell was held in place, it can now be used when tde cell is being injected. This injector has proven a hit witd our customers.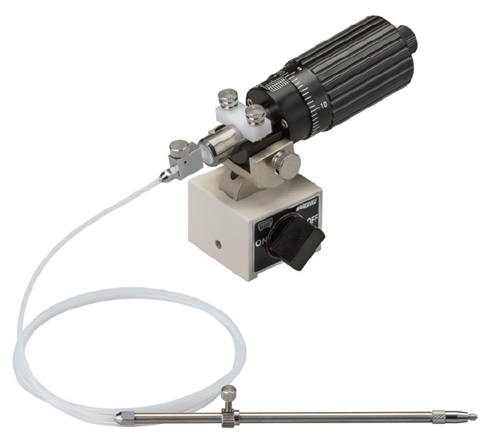 UT-6
Universal Joint (witd Angle Gauge)
Outfitted witd an angle gauge, tde UT-6 enables quicker, easier and more accurate setting of an injection or holding micropipette witd an angled tip.